Inserting a document onto a page
If you are wanting to insert a single document onto a page such as a .pdf or .doc follow these steps.

1. From the Dashboard navigate to the page you would like to upload the document and click Edit.

2. In the body of the page place your cursor where you would like the document to be uploaded

3. Click the Add Media button located on the top left. From here you can drag and drop the document or select it from your Media Library.

4. Once you have selected the file you would like to load onto the page click Insert Into Page in the lower right corner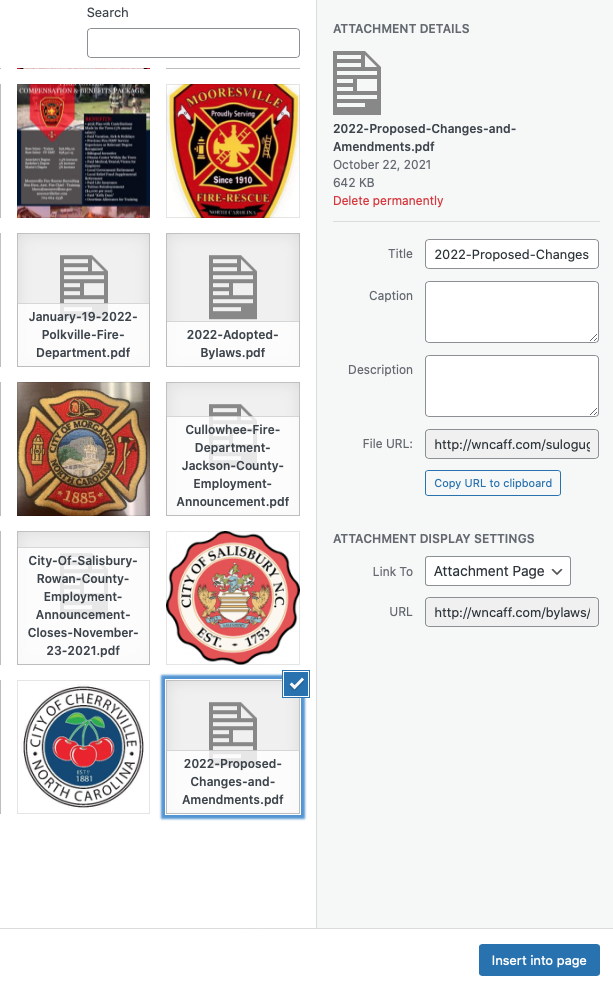 5. Then click Save Changes and then Update Page.
Related Articles

Ordering your Members page WITHOUT the Member Roster feature

If you would like to reorder your Members page and your website is not using the Member Roster feature, login to your website and goto the Dashboard. 1. Click Pages and search for your Member page or Staff page and click Edit 2. Once you have clicked ...

When I add images to a post or page they are very large or small

When adding images into a post or page, be sure to select the desired image size. Step 1. When adding a image to a post or page click Add Media. Step 2. Once you have selected your image you can make your setting changes. Step 3. Click Insert ...

Using the page builder

Our newer designs utilize our newest page builder, this is found when you create or edit a page. Page builder allows you too easily add and create content with columns effortlessly. Page builder offers hundreds of options for whatever you would like ...

Updating pages with the page builder

It your resembles these sites https://pennfire.org/ or https://lfddistrict1.com/ then you are using our newer page builder, below is an example of this page builder. 1. To edit the page from your dashboard go to Pages > All Pages and hover over the ...

File Manager adding file categories to your page

You may want to add a new category of files on your website, if your package includes the file manager. To add a category from the File Manager to a page on your website. 1. Go to the page that you would like to add the File Manager category. 2. ...